May 19, 2016
MY GEAR
1993 Fender Stratocaster (Black)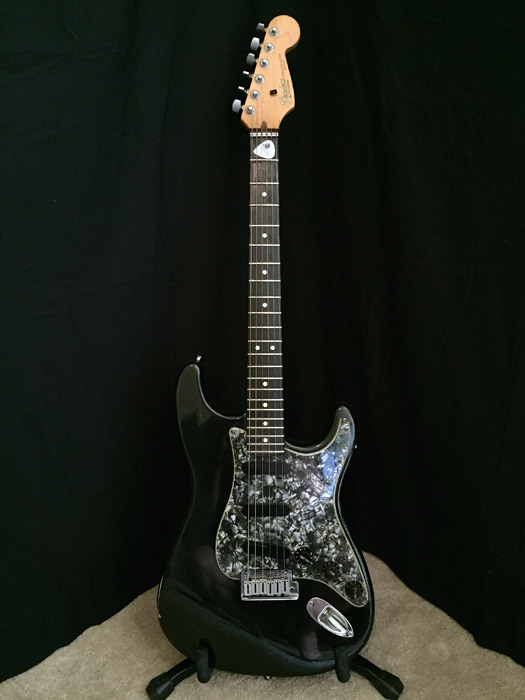 This has been my main guitar for over 20 years.  He has Fender Gold Lace Sensor pickups for warmth, but still has some bite after all these years. When I bought it in 1993, I changed the pickguard to black pearl and had the frets pulled for medium jumbos.  He's been through thousands of gigs and is the leader of the pack!
2010 Fender Custom Shop '63 Reissue Telecaster (Lake Placid Blue)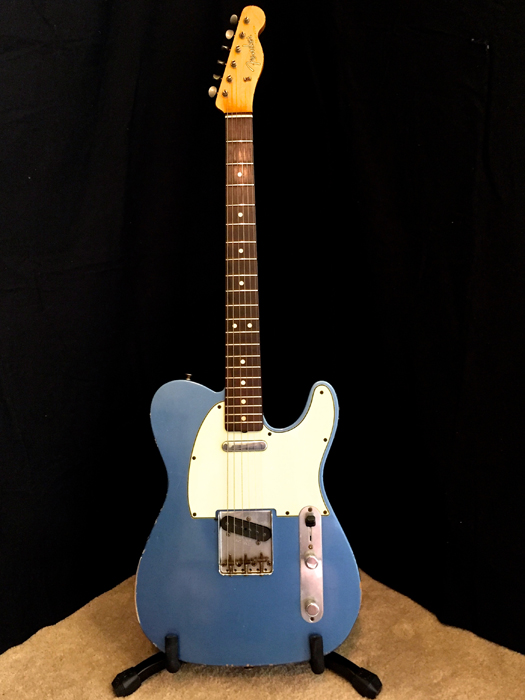 I searched for a comfortable Telecaster for years with the tone and playability I like and finally found it.  I'm not a big fan of the 'relic' guitars from the Custom Shop, but when it plays as smooth as this one, I couldn't help myself.  This gives me a full rhythm sound, but has that 'ice cold' Albert Collins tone I want a Tele to have.
2011 Gibson Les Paul Custom (Ebony)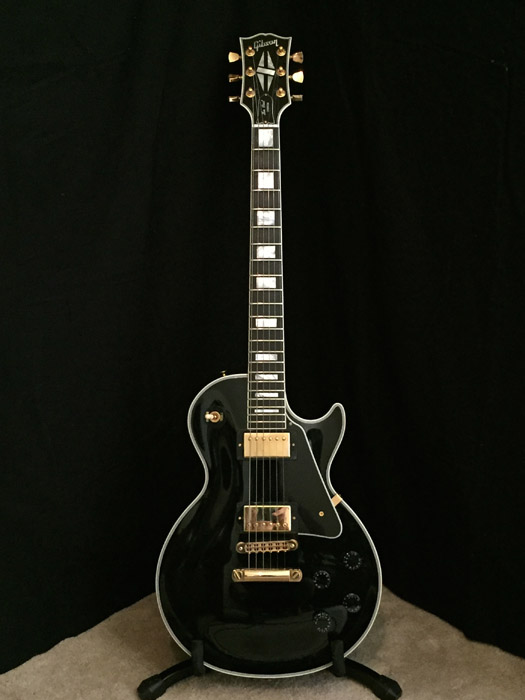 While I'm a devoted Fender player, the clean tone from this guitar can't be beaten. Its got a sweet timbre I love and is also able to drive my tubes to a crunch none of my other guitars can reach.
1996 Fender Custom Shop Stratocaster (Shoreline Gold)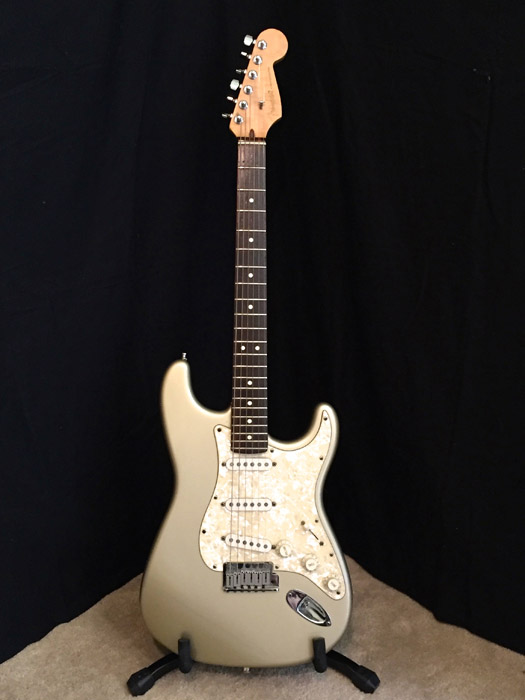 Hands down this guitar has the sweetest tone I've ever heard. It's also the heaviest Strat I've held. All my rhythm tracks are recoded with this one.
2014 Fender Custom Shop Walnut-Top Artisan Stratocaster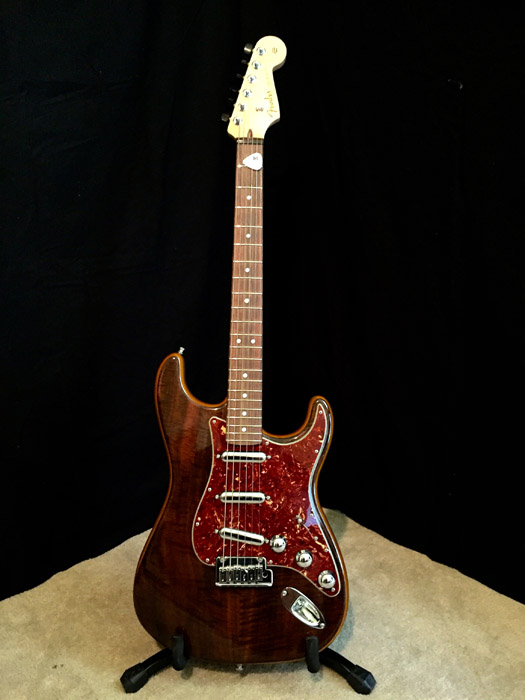 This was one of those guitars I stumbled across and couldn't take eyes off of. The walnut top with the buckeye alder wood is incredible to see. I plugged it in and loved the 70's feel the neck. The custom lipstick pickup have a 50's snap for the lead tone with full, fat rhythm chords. Chrome hardware and ebony wood tuning knobs make this a piece of art that is a blast to play.
2012 Taylor 814ce Acoustic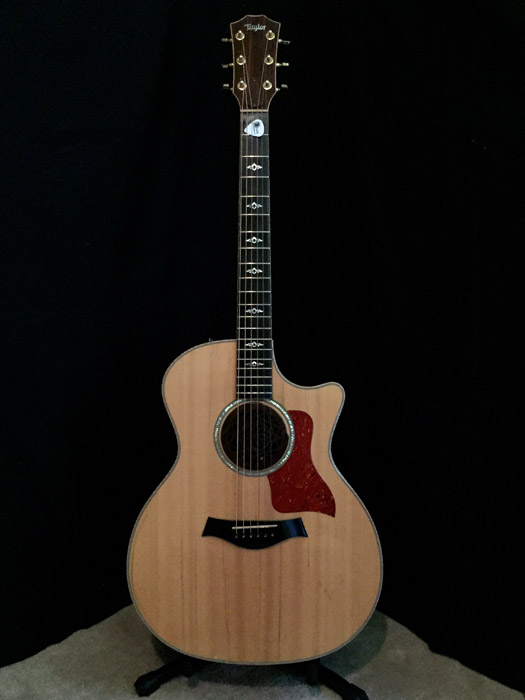 If you've played one, there's not much I can tell you, but if you haven't, play it!  The 814ce is the flagship for Taylor guitars. It's as close to perfection as I've found in an acoustic guitar. I've beaten mine up quite a bit, but the tone is simply what an acoustic guitar should sound like.
Amplifiers
1993 Fender Vibro-King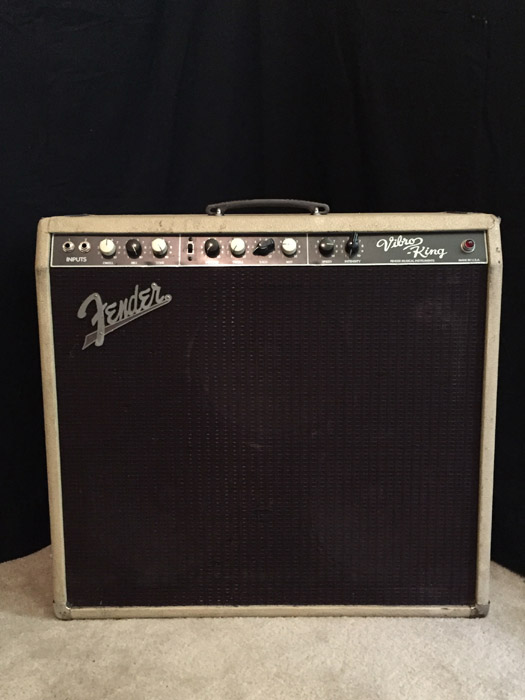 This was my main amp for over 15 years, but was retired several years ago. Her tone is still there, but many years on the road have taken its toll. It's my main studio guitar these days.
2007 Fender Vibro-King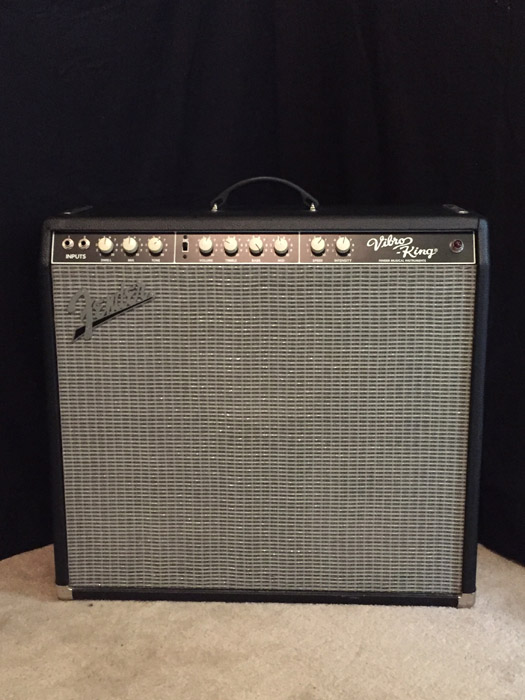 Once I retired the '93 VK, this one took her place. He's a little meaner, but still has that classic tone I can't get enough of.
2006 Fender Blues Deluxe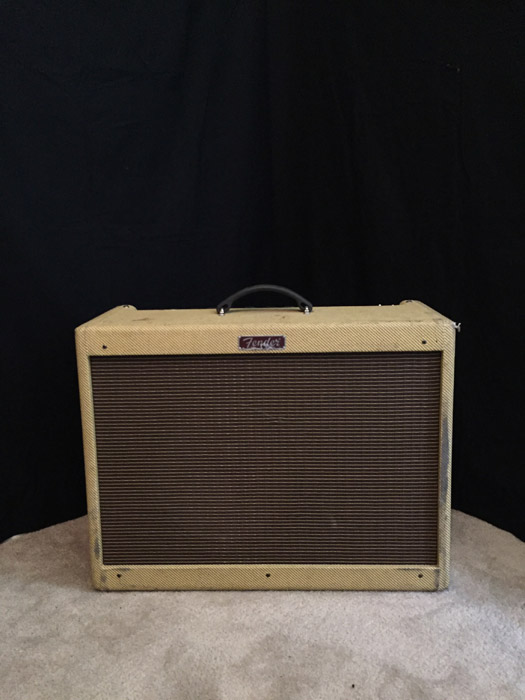 In rooms where the Vibro-King is a little much, this is my go-to. I had a 1993 for 15 years that was stolen, but for a workhorse amp that is easy to carry, this is the one.
2000 Super Reverb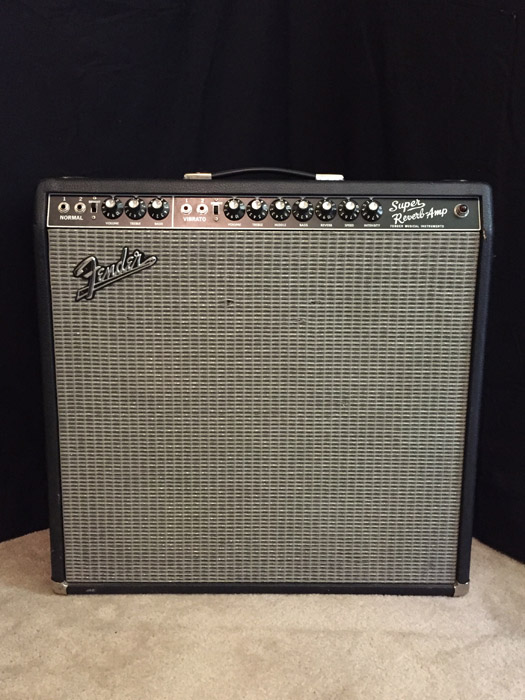 You can't be a blues player in Texas and not spend some time with this amp. It's a monster. It's been to some gigs, but I use it mostly in the studio and for driving my neighbors crazy. This one can rattle the windows.
2010 Fender Vibrolux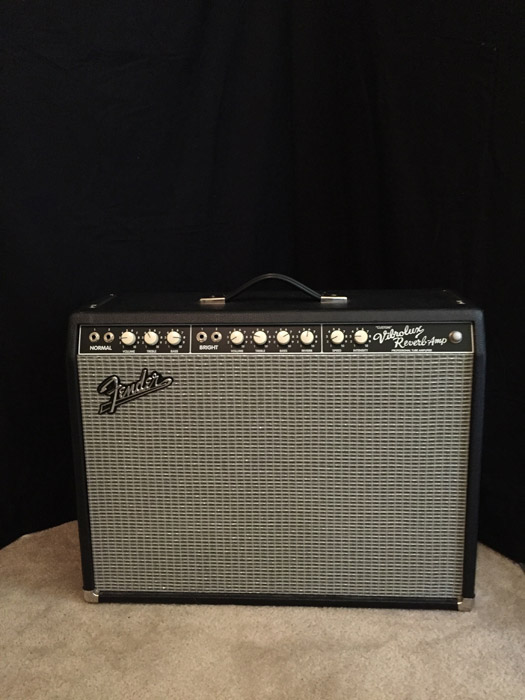 I call these amps the Vibro-King's little brother.  Very similar, but it breaks up at a lower volume.  Great for smaller rooms.  Sweet tone at a low volume and growls when you need it.
2015 Fender Blues Jr.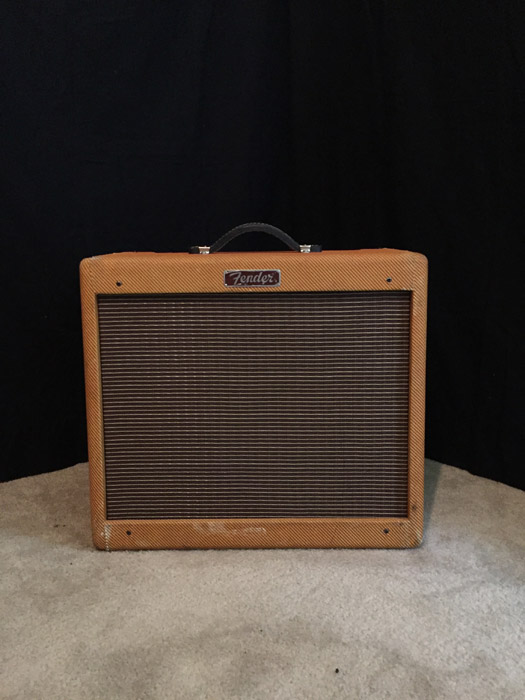 I knew about these amps for years, but finally played it at a jam and bought one the next day.  It's my main practice amp. I've also used it for very small clubs where it's miked and I can use it as a monitor. 15 watts, but classic Fender tone.  It's a perfect rehearsal amp.
Pedalboards
Electric
Like everyone, my pedalboard is always a work-in-progress, but there are some staple pedals that have been there for years.
Boss TU-2 Tuner
Boss DD-3 Digital Delay
Keeley Katana Clean Boost
1984 Ibanez Tube Screamer
TC Electronics Stereo Chorus
Jim Dunlop Cry-baby Wah Pedal
I rotate the last couple spots just to keep things interesting. Recent additions have included MXR Carbon Copy Delay, Wampler Sovreign Distortion, Keeley-Modded Boss TU-2 Tremolo, Fulltone OCD Overdrive (v. 2), and a Keeley-Modded Boss BD-2 Blues Driver.
Acoustic
Boss TU-2 Tuner
Boss DD-3 Digital Delay
Boss FRV-1 '63 Fender Reverb
Boss RC-20XL Loop Station
I've used multiple compression and chorus pedals as well, but nothing has stuck.
Accessories
Kyser Capos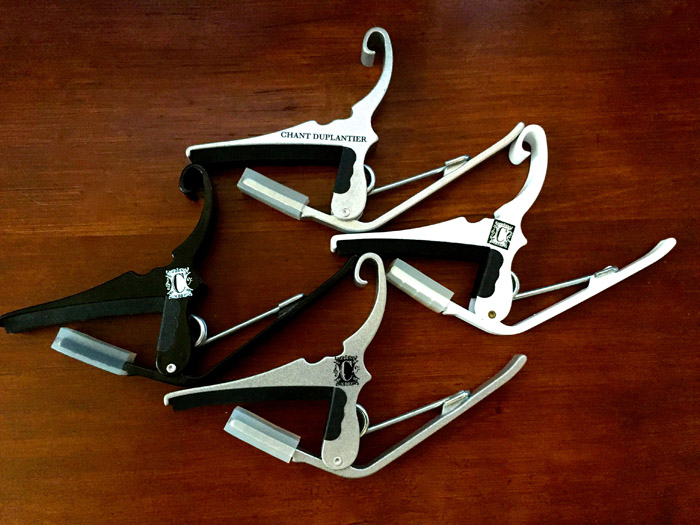 Kyser sets the standard for capos and accessories in this industry. I'm honored to be an endorsed artist and you can usually find me at the NAMM Conferences playing their booth.  Their products (and their people) are some of the best in the industry!
Steve Clayton picks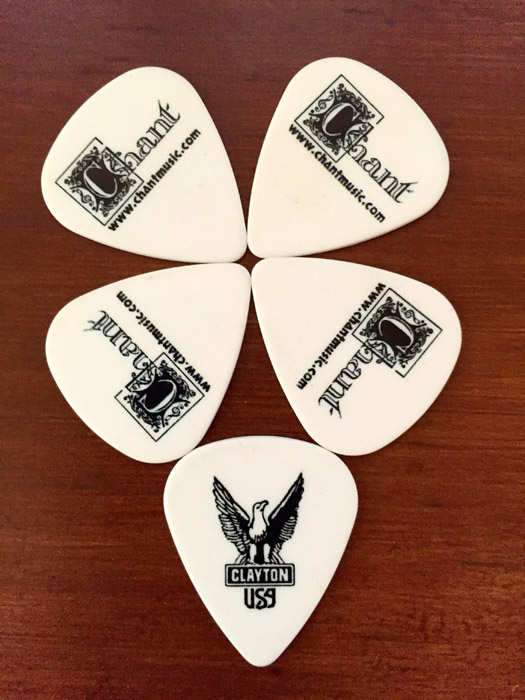 I've used these picks for years and appreciate their artist endorsement.  Love the work they do!
Amplifier Shield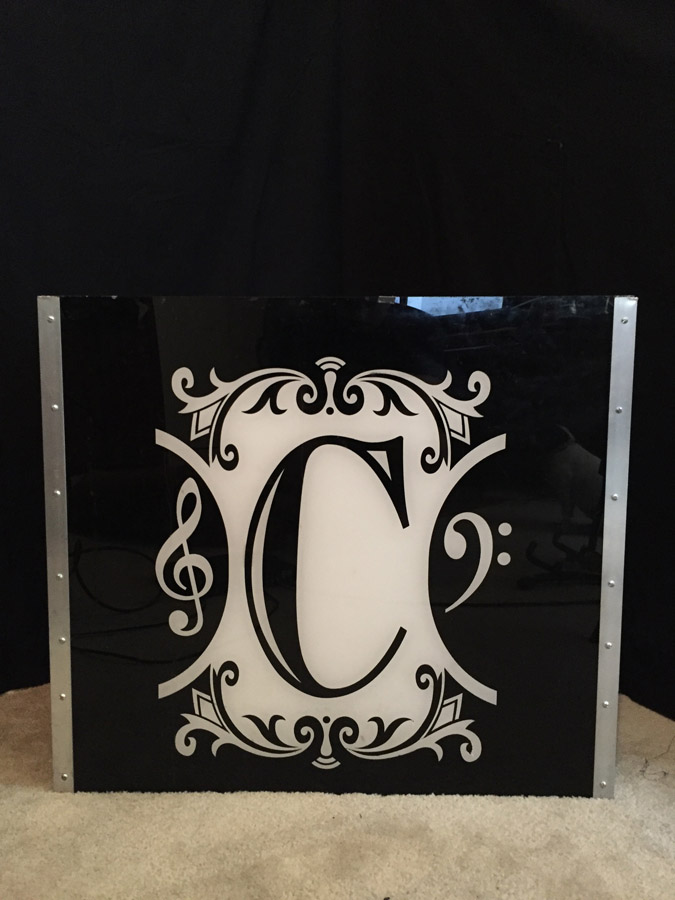 This shield was custom-built by my friend of 20 years, Chuck Hollenbeck. I've been using his shields for over 10 years and have had hundreds of sound engineers thank me for having something of this quality for sound control. If you're interested in getting one for yourself, email him at Chuck@chantmusic.com.